Panther Point Trail at Marshall Hampton Reserve is one of Polk County's hidden gems. Located just across Lake Hancock from Circle B Bar Reserve, this park offers a similar hiking experience with far less crowds. Another plus is that it opens at 6am so you can hike the entire trail in summer before the heat fully sets in for the day.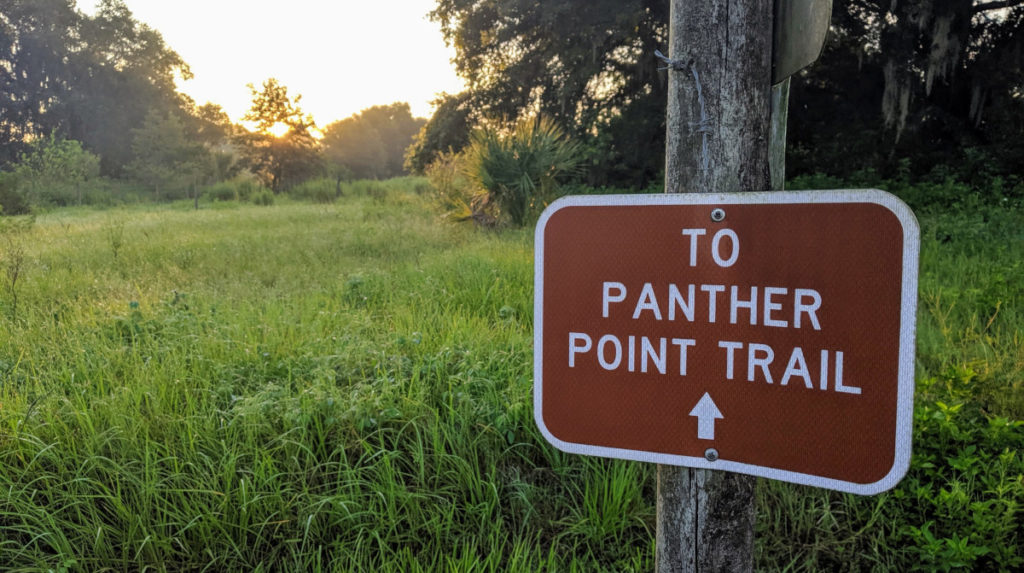 A few of weeks ago I set out to hike the 10 mile Panther Point Trail (5 miles out & back). I had hiked 2 miles out & back several times before, but I never had the time for the entire trail. So after a week of sitting on my butt (I work on a computer all day), I woke up Sunday morning ready to take the challenge head-on!
I made it to the trail by 7 am just as the sunrise was showing off a fantastic array of colors in the sky. Seriously, does it get any better than sunrise hikes? Not only is it beautiful and inspiring, but there's something so special about experiencing nature at the dawn of the new day. It's like you can feel the hope and possibilities down to your core as you greet the sun ready to take on the world.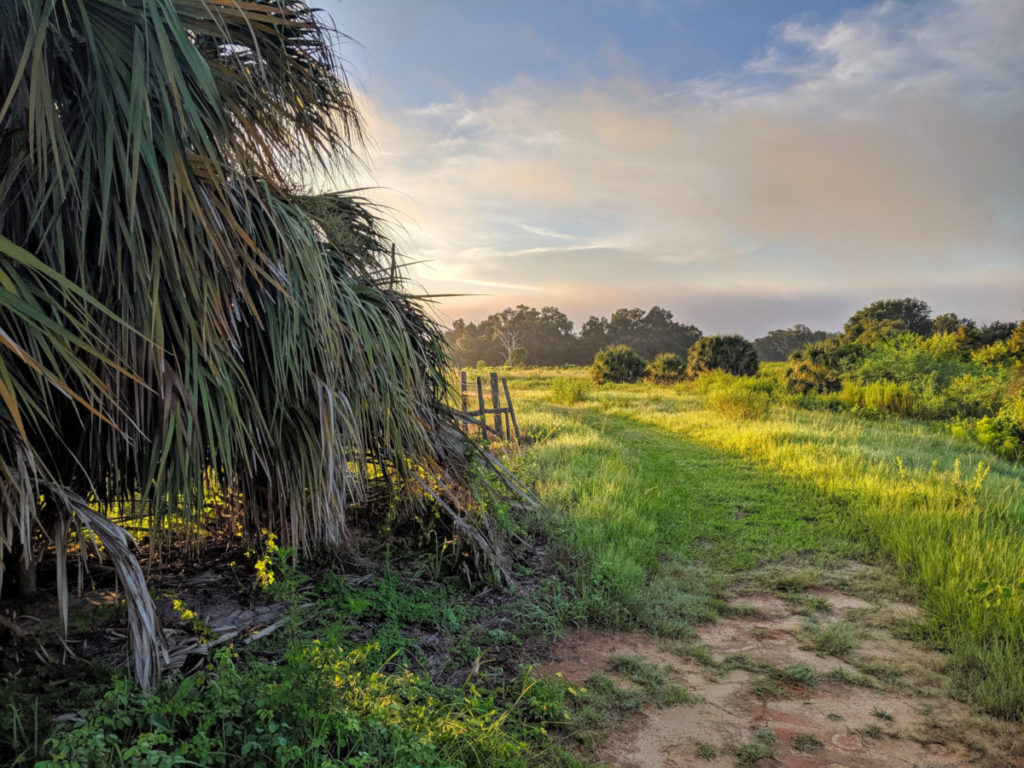 Oak Trees, Lakes and Cows…How Very Florida
The first quarter mile of Panther Point Trail takes you through an oak canopy. It's like a thick wall protecting the Reserve from those not ready to submit to the trail. Through the canopy, you make your way to a 60 acre pond where you finish-out your first mile around it's eastern banks.
After the pond comes the cattle field. Yes, an active cow pasture, so watch your step! ? Sometimes the cows will be on the trail, but as you walk closer they will always move out of the way. Try not to scare them on purpose. These guys are already pretty skittish.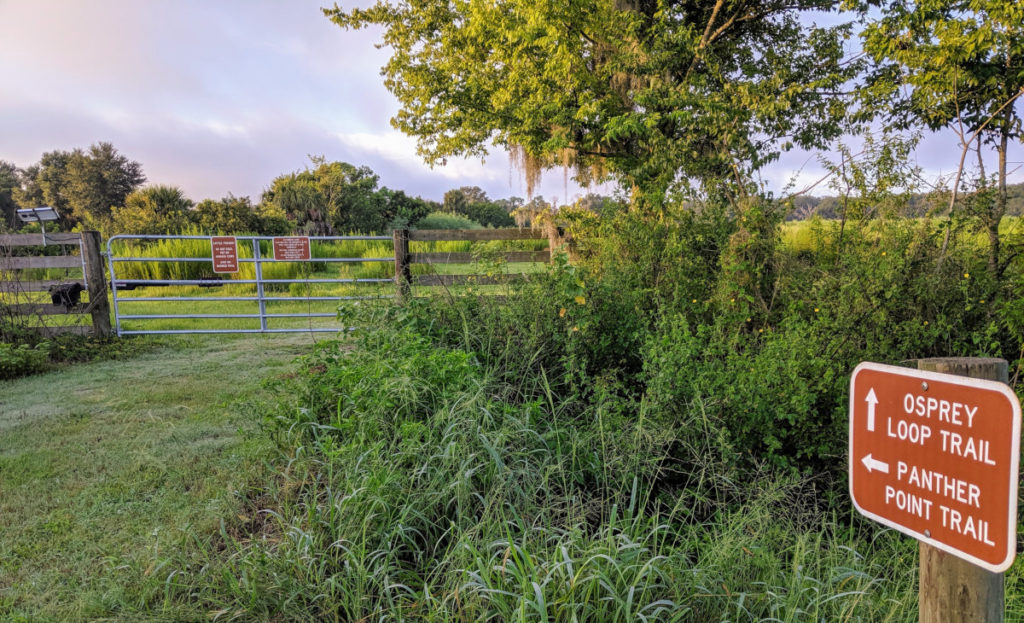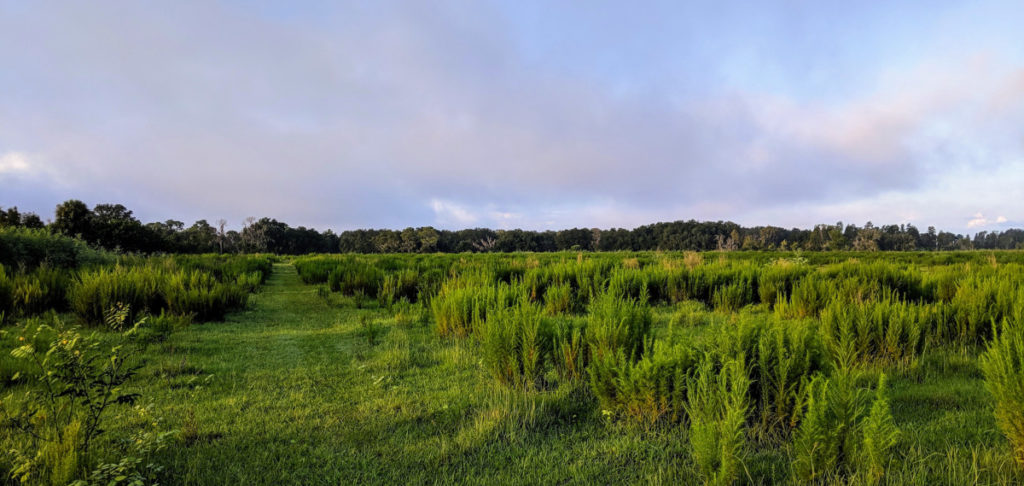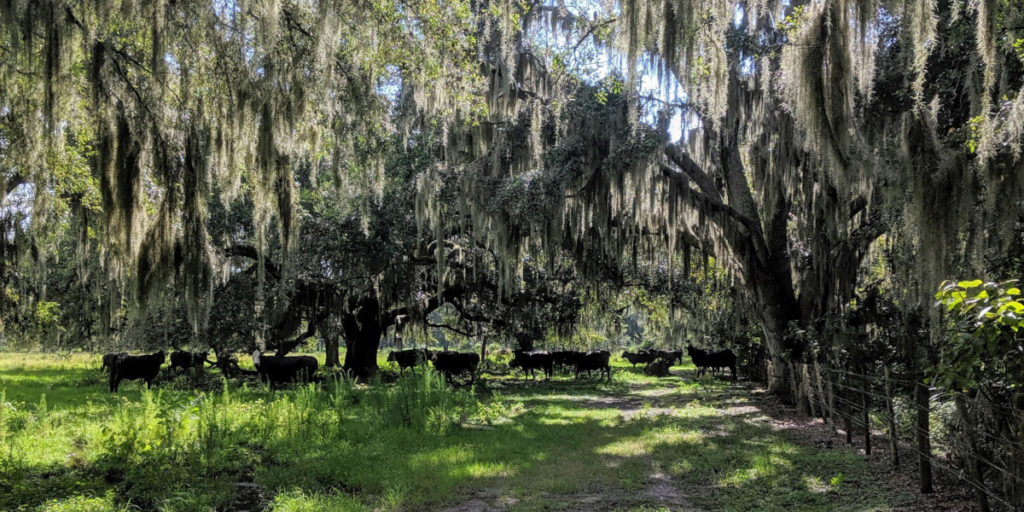 The half mile through cattle pasture brings you to another gate. Once through the gate, the next half mile (or so) is easy and paved, which is a nice break after dodging cow dung the last half mile. This section is really lovely as you start to come up on Lake Hancock. You start to see more wildlife and spectacular views of the lake. Throughout the rest of the hike you'll see all kinds of birds, like great blue heron, hawks and woodpeckers, as well as a hefty population of buzzards as they sit up in the trees like a scene right out of The Jungle Book.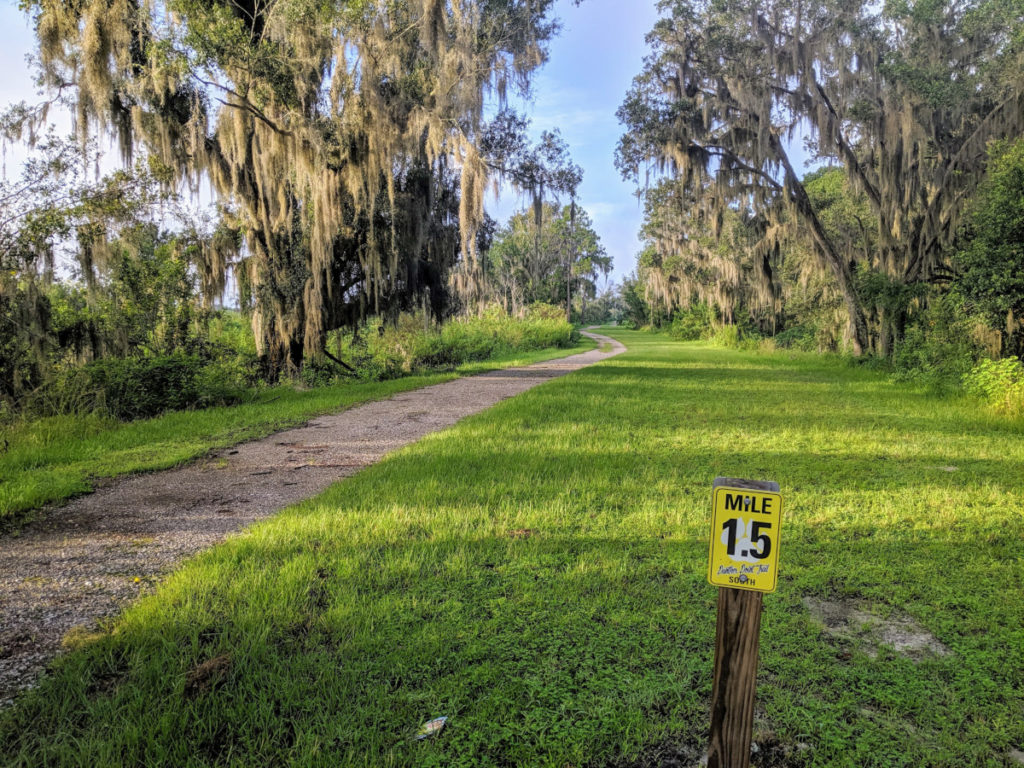 When pavement ends, the trail turns to grass and dirt for the last 3 miles (except for long footbridge across the water at one point). In rainy season you can expect to walk through several muddy sections, so make sure you aren't wearing your favorite shoes on this hike!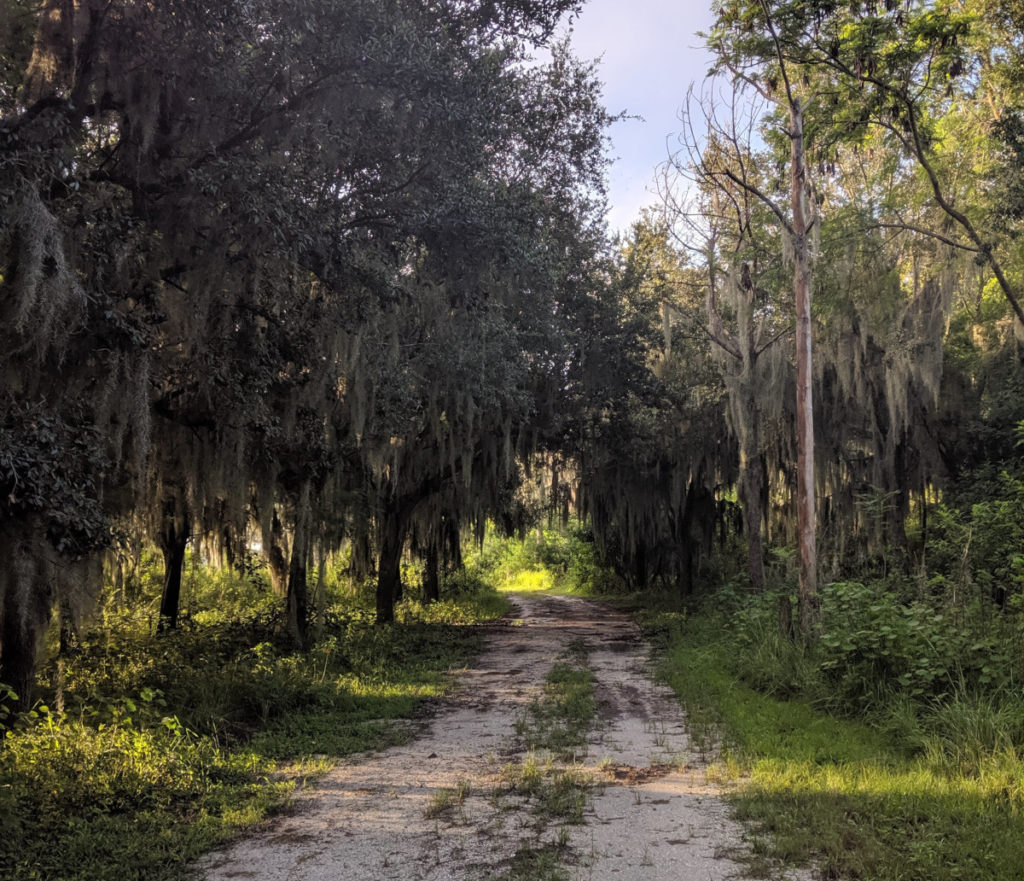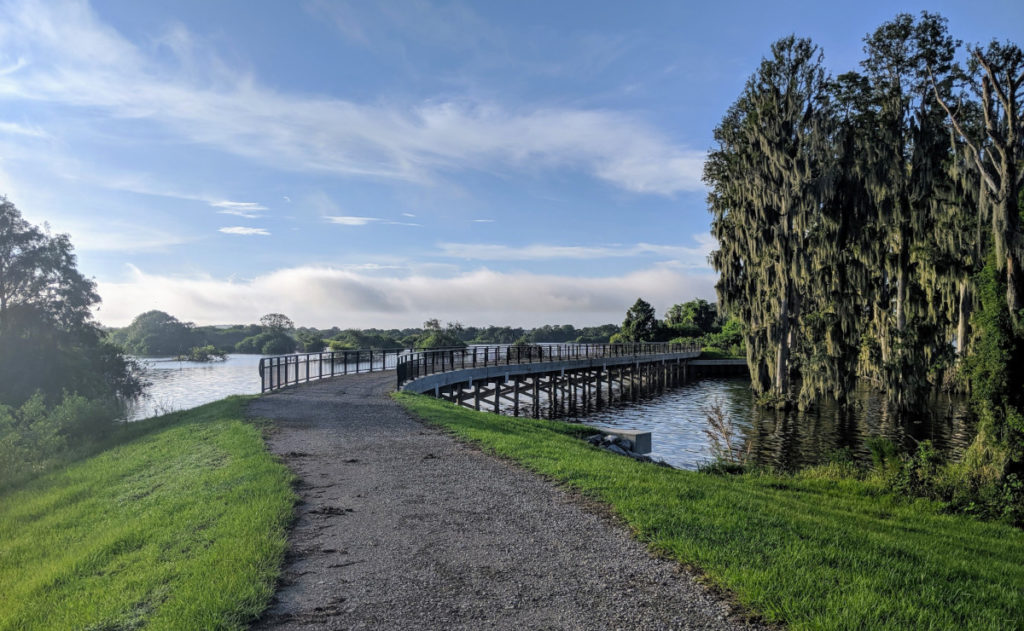 The Gator Situation
As with most bodies of water in Florida, Lake Hancock is full of gators. There are portions of this part of the trail where there is water on both sides, and if you are looking you can see where the gators have pushed through the grass and crossed over the trail. When I saw this on my hike I decided it was probably a good idea to make some noise to make sure the alligators could hear me coming and wouldn't get surprised. The last thing you want to do is accidentally scare one of these modern dinosaurs when you are hiking alone ?. I personally saw a few of them in the lake and I heard them constantly. I'm pretty sure it was their mating season, so even more of a reason to keep my distance!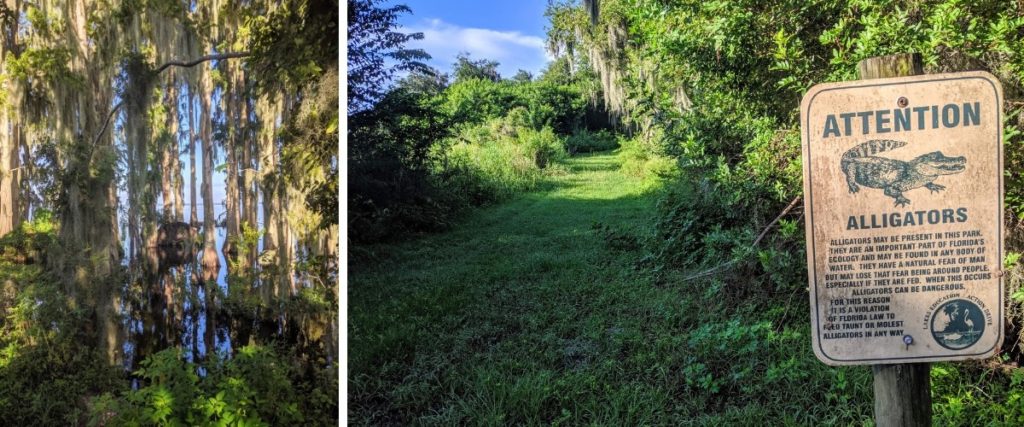 Future Connections
At the end of the 5 mile trail there is a large locked gate. Apparently Polk County is actively working on connecting Panther Point to the Fort Fraser Trail, which I'm pretty happy about! We don't have very many long trails in our area, so any time we can connect trails like this I'm all for it. I can't wait for the day the Circle B Trails, the Fort Fraser Trail and Panther Point are all connected! ?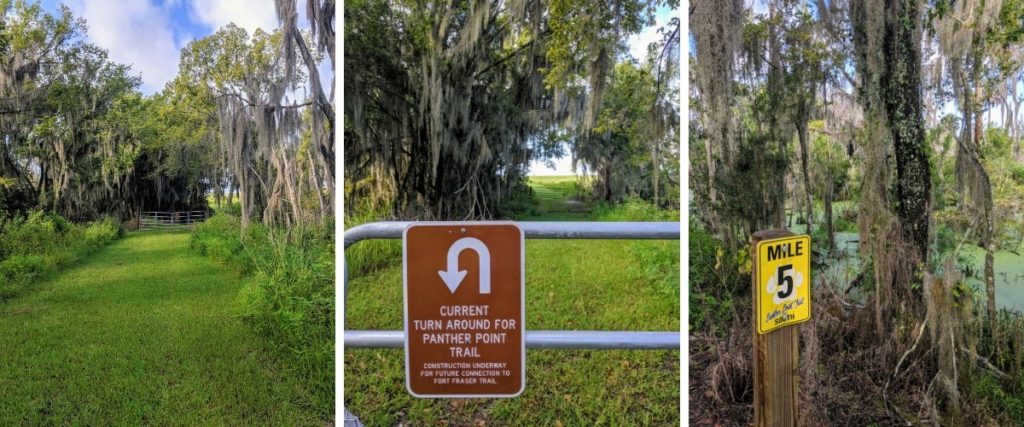 Like I said earlier, this trail is an "out and back" trail (as opposed to a "loop" trail), so once I got to the gate I stopped for a water break and turned around to hike the final 5 miles back to the beginning. It's fun seeing everything again from a different perspective, but I did just see all of it. For out and back hikes, I try to give myself some pace goals for the second half to keep me energized and interested until the end.
The last hour of this particular hike was rough, as it was coming up on 11am… in August…in Florida ?. Looking back I should've started at 6am right when the reserve opened, but it was still a wonderful hike and I will definitely be doing it again in the near future!
Here's a little before and after for your amusement!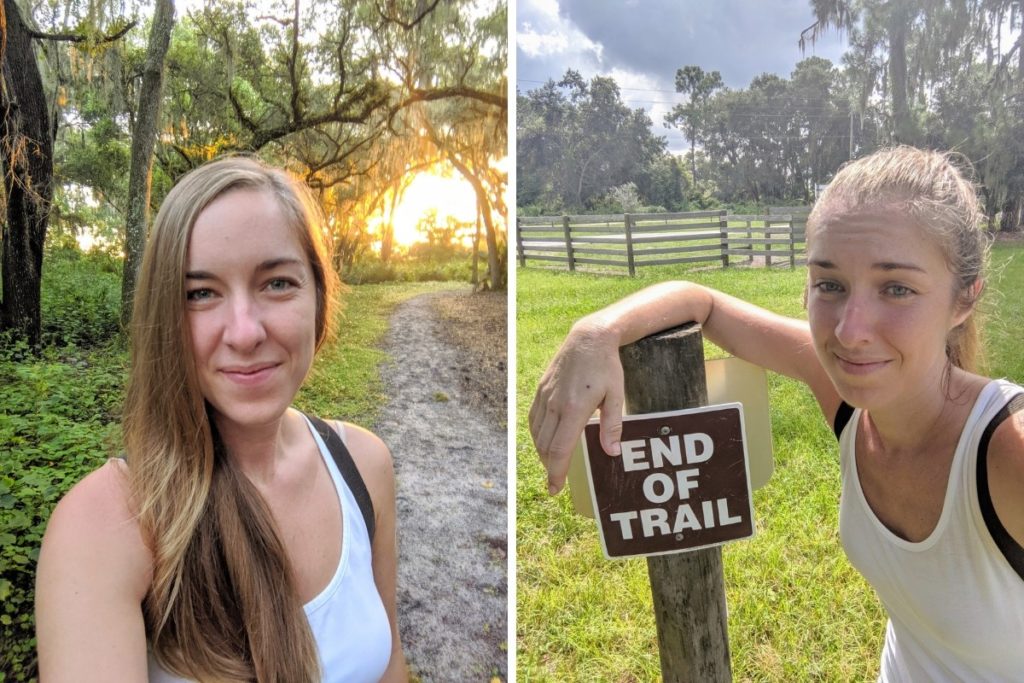 What I Like About This Trail
The variety. Panther point is 5 miles long and includes stretches under shady oak trees, around a 60 acre pond, through cow pasture and around the beautiful Lake Hancock. If you hike all 10 miles (5 mi out and back), the variety really helps to keep things interesting.
The Deets
//
Marshall Hampton Reserve
3115 Thornhill Rd
Winter Haven, FL 33880
PolkNature.com
Distance – Panther Point Trail
5 Miles (10 miles round trip)
What to Bring
Bug Spray
Sun Screen
Water
Hat (extra sun protection)
Hiking Boots / Trail Runners
Trail Use
Hiking / Jogging
Horseback Riding
Biking
Happy Trails, Explorers!