Beginner Backpacking 2022
Florida Trail | January & February 2022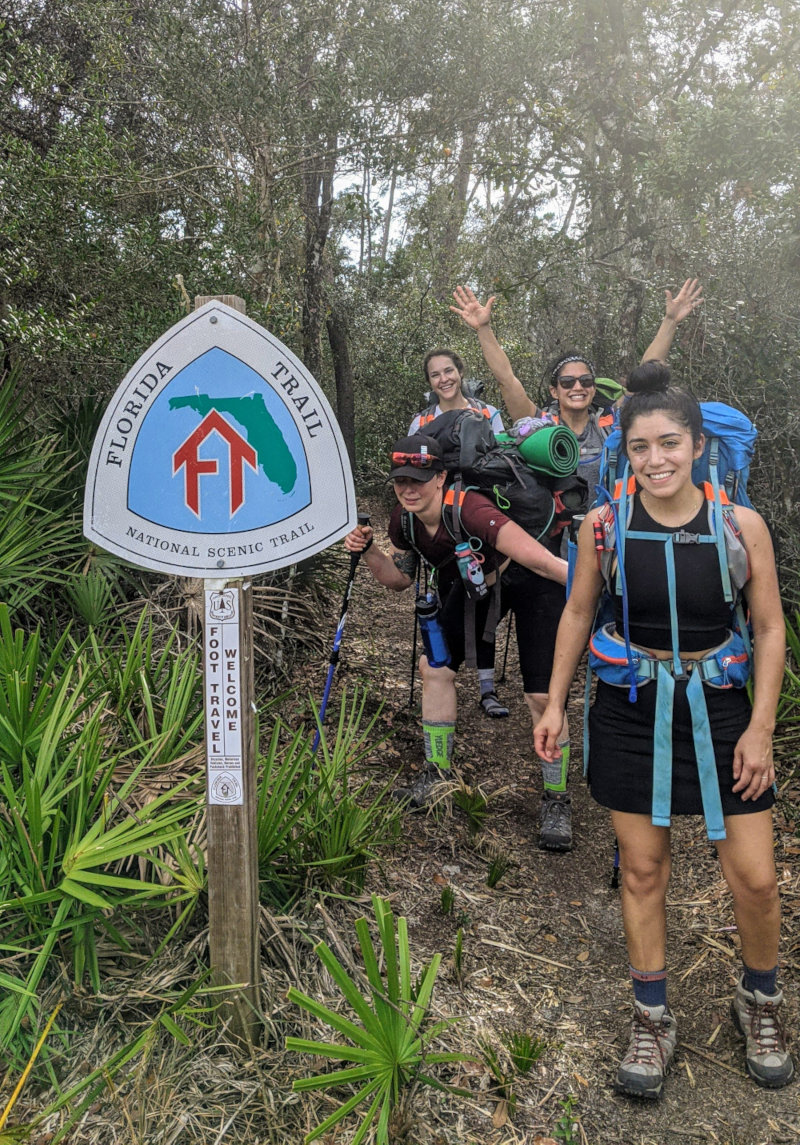 ⫸ 3 days / 2 nights
⫸ 30 miles in Ocala National Forest
Have you wanted try backpacking, but have no idea where to start? This trip was made for you! Join us on a 2 night hike through the Ocala National Forest, the perfect trail to start your backpacking adventures.
Leading up to the trip I will be available for any questions you have regarding gear, trail fitness, food and more to make sure you feel ready to explore. My desire is that you finish the hike with the confidence to plan your next outdoor adventure!
EXPERIENCE LEVEL: No previous experience necessary. You are responsible for your own gear and food. Be prepared to carry everything you need for hiking and camping at night.
FITNESS LEVEL: Be able to carry 25-35lbs 10 miles/day for 3 days
email if interested: marissa.nieddu@gmail.com
friday - day 1
6am leave Lakeland

Drive to Clearwater Lake Trailhead

8am start hiking

Hike 10 miles to Alexander Springs Campground
saturday - day 2
6:30am pack-up + breakfast
8am start hiking
Hike 10 miles to Farles Prairie
sunday - day 3
6:30am pack-up + breakfast
8am start hiking
Hike 10 miles to Juniper Spings Recreation Area
Grab lunch
Drive 2hrs to Lakeland
5pm arrive in Lakeland
30 miles on the Florida Trail through the Ocala National Forest
backpack
My pack (Hyperlite Southwest) is 55L, which I only went that big to accommodate my bear cannister. Sleep is crucial on the trail so if you have a couple extra items to make sleep more comfortable, then definitely go with a larger capacity. Pocket placement is super helpful on your pack. Side pockets for water bottles and hip pockets for snacks are a must for me.
THINGS TO CONSIDER:
weight (try to keep it around 3lbs or less)
waterproofing (how will you keep your stuff dry in the rain)
pocket placements
durability
MARISSA'S SUGGESTIONS:
shoes
OEHiking Shoes
There are several different types of hiking shoes; boots, trail runners, sandals, etc. I have found that Altra Lone Peak trail runners work best for me.
You will never really know what shoe you need until you try them out. So I would purchase a pair from a store/website that let's you send them back if you don't like them (I highly recommend REI). Then try them out for a couple long hikes (10+ miles each with inclines & declines) and see how your feet react to them.
Some good brands for trail runners are Altra, Salomon, Brooks, and Hoka which can all be found at REI.
I do not suggest waterproof shoes. Waterproof  shoes tend to have low breathability, and if they get soaked for any reason, they take much longer to dry.
Also consider getting a show that is .5 or 1 size bigger than your normal shoe. When hiking long distances our feet tend to swell, and getting a larger size shoe can help prevent blisters when this happens.
TRAIL RUNNING SUGGESTIONS
HIKING SHOE SUGGESTIONS
——–
Camp Shoes
You will want to take off your hiking shoes at the end of the day, but you will still want your feet to be protected. I always suggest bringing a pair of camp sandals to let those stinky feet breathe once we get to camp.
I used cheap Wal-mart flip flops when I hiked the Colorado Trail. Later I upgraded to Xero Hiking Sandals because they are lightweight and can serve as a back-up in case anything happens to my hiking shoes.
tent
For my tent I have the Gossamer Gear Two. It's the biggest lightweight tent I've seen on the trail. I actually didn't need that much space, but I got it case Grant joined me on parts of the trail. It withstood some crazy windy nights so I have a lot of faith in it at this point ? And it's about half the price of the ZPack Duplex, which is a favorite among lightweight hikers. It's a non-freestanding tent, which means it doesn't come with any poles, which saves on weight. Instead you use your trekking poles to pitch the tent. Sometimes pitching these can be tricky on rocky ground. It's also a single wall tent (as opposed to a double wall that has a mesh layer and a separate rain fly). Single wall tents are prone to condensation since there is not as much ventilation. But I didn't mind this. I had a ton of space and the tent is under 2lbs ?
There are actually a lot of factors that go into deciding on a tent; size, weight, waterproofing, durability, etc. Here is a good article that explains the different factors.
And here is another article with info and suggestions
THINGS TO CONSIDER
Weight!

under 4lbs for 1 person
under 5 lbs for 2 person

Waterproofing

Does it have a "bathtub floor"?
Look at reviews and try to find someone who experienced heavy rain in the tent

Type

Freestanding (comes with poles) vs. Non-freestanding (use your trekking poles, lighter option)
Double wall (separate rain fly) vs. Single wall (all 1 piece, condensation can be a problem, typically the lighter option)

Groundsheet/footprint – You will need this and it's sometimes sold separately
MARISSA'S SUGGESTIONS
1 Person Tents
FREESTANDING
NON-FREESTANDING (need trekking poles)
2 Person Tents
FREESTANDING
 NON-FREESTANDING (need trekking poles)
sleeping bag
I use Enlightened Equipment's Revelation 10° Quilt. I got this for Colorado nights, so it's is a bit overkill for Florida, but I'm always very warm in it.
You will probably be fine with a 20-30° bag in Florida, but if you plan on backpacking in the mountains, definitely aim for a 10-20° bag.
Also pay attention to the weight! I would suggest something between 1.5lbs-3lbs max. Any bigger and it will take up a lot of space in your pack, on top of adding extra weight that you have to carry.
MARISSA'S SUGGESTIONS:
sleeping pad
I use Nemo's Switchback regular for my sleeping pad, which is 14oz. I like these because I never had to worry about getting a hole in it, I didn't have to inflate anything after hiking all day, and it doubled as a sit-pad during the day. It's not as comfortable as the inflatable ones, but I took the trade-off and it worked out fine for me.
If I got an inflatable one, I would probably get Thermo-a-Rest's NeoAir XLite which is 12oz. It's lite and has an "R value" of 5.4 which makes it warmer than other inflatable pads. It comes with a pump sack to make inflation easier and a repair kit in case you get a hole in it.
food
⫸ 3 lunches ⫸ 3 dinners ⫸ 2 breakfasts ⫸ snacks *you will need somewhere between 2000-4000 calories/day food-related items: ⫸ camp cup for coffee ⫸ spork ⫸ Jet Boil stove (we will only need 2 for the whole group, I will bring 1) ⫸ Bear canister (we will need this for the second night, might need to bring a second one to fit everyone's food)