Backpacking the Art Loeb Trail
North Carolina | Spring 2022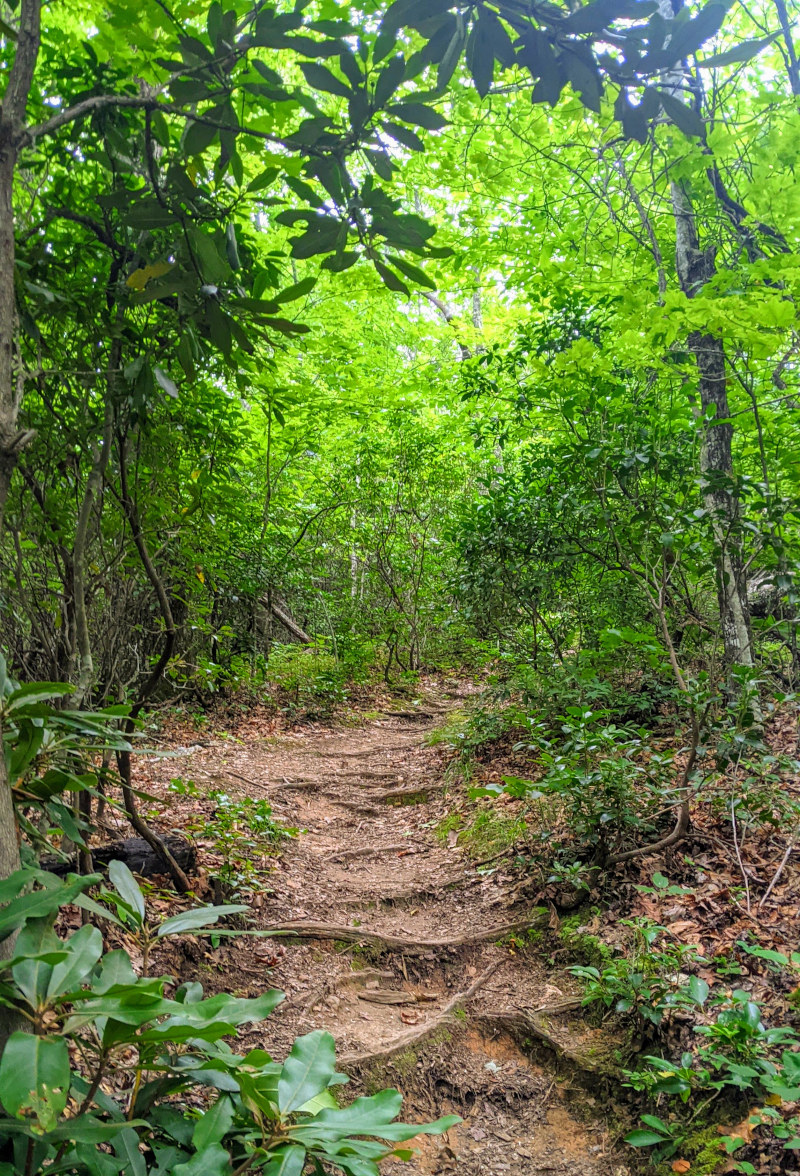 ⫸ 4 days / 3 nights
⫸ 30 miles in Pisgah National Forest
Ready to take your backpacking to the next level? The Art Loeb is a beautiful 30 mile trail with 8500ft in elevation gains that will test the limits of those leg muscles! This trail is rated difficult, but the views on the second half make it all worth it. Join us this Spring in North Carolina!
EXPERIENCE LEVEL: Some backpacking experience required. Trail rated as difficult.
FITNESS LEVEL: Must be able to carry 25-35lbs for 7-8mi/day for 4 days with 8500ft in elevation gain.
wednesday - day 1
Drive to Davidson River Trailhead
Hike 7 miles to Sandy Gap
thursday - day 2
Hike 7.7 miles to Deep Gap Shelter
friday - day 3
Hike 8.2 miles to Shining Rock Wilderness
saturday - day 4
Hike 7 miles to end at Camp Daniel Boone
Shuttle back to car
30 miles with 8500 ft in elevation gain through Pisgah National Forest & Shining Rock Wilderness
basics
⫸ backpack
⫸ tent
⫸ sleeping bag
⫸ sleeping pad
⫸ hiking clothes
⫸ camp clothes
⫸ hiking shoes
⫸ water filter
⫸ eating utensil
⫸ toiletries
⫸ first aid
⫸ multi-tool/knife
⫸ headlamp
⫸ power bank
gear resources
⫸ LighterPack ⫷
This website helps you keep track of your gear list and it's weight.
lighterpack.com ◈ Marissa's LighterPack list
⫸ Tents ⫷
For my tent I have the Gossamer Gear Two. It's the biggest lightweight tent I've seen on the trail. I actually didn't need that much space, but I got it case Grant joined me on parts of the trail. It withstood some crazy windy nights so I have a lot of faith in it at this point ? And it's about half the price of the ZPack Duplex, which is a favorite among lightweight hikers. It's a non-freestanding tent, which means it doesn't come with any poles, which saves on weight. Instead you use your trekking poles to pitch the tent. Sometimes pitching these can be tricky on rocky ground. It's also a single wall tent (as opposed to a double wall that has a mesh layer and a separate rain fly). Single wall tents are prone to condensation since there is not as much ventilation. But I didn't mind this. I had a ton of space and the tent is under 2lbs ?
There are actually a lot of factors that go into deciding on a tent; size, weight, waterproofing, durability, etc. Here is a good article that explains the different factors.
And here is another article with info and suggestions
Weight-wise I would try to keep it 1.5lbs-3lbs ?
⫸ Sleeping Pads ⫷
I use Nemo's Switchback regular for my sleeping pad, which is 14oz. I like these because I never had to worry about getting a hole in it, I didn't have to inflate anything after hiking all day, and it doubled as a sit-pad during the day. It's not as comfortable as the inflatable ones, but I took the trade-off and it worked out fine for me.
If I got an inflatable one, I would probably get Thermo-a-Rest's NeoAir XLite which is 12oz. It's lite and has an "R value" of 5.4 which makes it warmer than other inflatable pads. It comes with a pump sack to make inflation easier and a repair kit in case you get a hole in it.
⫸ Packs ⫷
My pack (Hyperlite Southwest) is 55L, which I only went that big to accommodate my bear cannister. Sleep is crucial on the trail so if you have a couple extra items to make sleep more comfortable, then definitely go with a larger capacity. Pocket placement is super helpful on your pack. Side pockets for water bottles and hip pockets for snacks are a must for me.
⫸ Shoes ⫷
There are several different types of hiking shoes; boots, trail runners, sandals, etc. I have found that Altra Lone Peak trail runners work best for me.
You will never really know what shoe you need until you try them out. So I would purchase a pair from a store/website that let's you send them back if you don't like them (I highly recommend REI). Then try them out for a couple long hikes (10+ miles each with inclines & declines) and see how your feet react to them.
Some good brands for trail runners are Altra, Salomon, Brooks, and Hoka which can all be found at REI.